Safe hotel
The world around us has changed quite dramatically, and for some time forth, there's little that can be done about it. We must change, too. Your stay should be enjoyable and entertaining, of course, yet, in these circumstances, it must be as safe as possible, for your health is of paramount importance to us. Therefore, new rules and solutions have just been introduced in every single area of our work.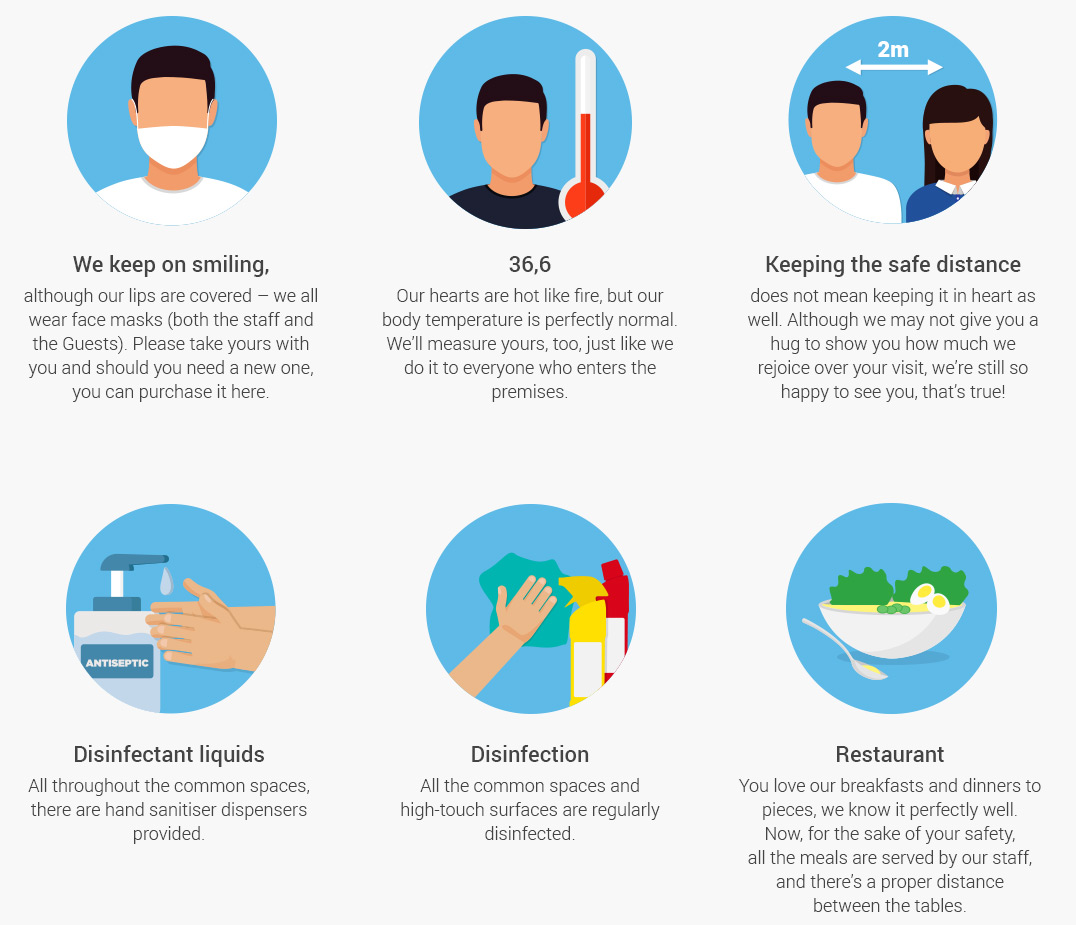 New safety and hygiene rules
Reception
At the check-in and check-out, a transparent plexiglass screen protects both the receptionists and the Guests.
The reception desk top, telephones and other reception spaces are regularly disinfected.
Both the room keys and payment terminals are disinfected after every single Guest.
Our employees wear face masks, gloves and use disinfectant liquids.
At the reception desk, special areas have been marked out to help you keep the right distance.At the reception and all throughout the common spaces, there are disinfectant liquids provided.
Non-resident persons may not stay in the hotel rooms.

Rooms
To avoid contact, we clean rooms only in the Guest's absence.
Our housekeeping staff wears gloves and masks.
When cleaning the rooms, we always disinfect all the countertops, door handles, remote controls and other room elements used by the Guest.


Restaurant
At the entrance, there is a disinfectant liquid available.
Our employees wear disposable gloves.
Table tops are regularly disinfected for new Guests.
Beverages are served in originally closed packaging.
Tables have been properly separated from each other.Additional meal serving points have been created.
The kitchen staff uses disinfectant liquids, face masks and gloves as well.


Universally available rooms
On each floor, at the entrance to the reception, to the restaurant and to the SPA, there are disinfectant liquids available.
Information boards placed all throughout the building explain the safety procedures.
The lifts should be used by maximally two persons at a time so that the safe distance can be kept.
The lifts are regularly disinfected.
There are two corridors, located at the two extremities of the building.
Thereby, the traffic can be relieved and the safe distance is possible to keep.
Disinfecting all the door handles, handrails and other surfaces is performed regularly and controlled by the housekeeping manager.
Toilets and lifts are regularly disinfected and cleaned more frequently.
On the countertops used by our staff, there are only few necessary items.
A reduced number of persons may use the Play Room at the same time and all the toys are regularly disinfected.
In accordance with the guidelines issued by the State Sanitary Inspectorate, the air-conditioning and ventilation are regularly serviced and disinfected.